"A book blessing?" I repeated to my friend Gary.  "Well, yea, does that make sense?" he asked.  "YES!  Why not?" I exclaimed, affirming his instinct, my own, and all the gods' listening.    Each creative act — every courageous, obedient dance with The Muse — is to be honored and celebrated and, by all means, Blessed!  And so, on the afternoon of his new book's release, we made sure its way forward was duly anointed.
Book Blessing for author, Gary Turchin and his book, If I Were You
August 27, 2011
Opening Words:
When I asked Gary about why he wrote this book, he explained that writing this book is part of his Legacy.  He told me he felt, "a Call to do something for the Light in this world."  I find this striking: to feel, "Called to do something for the Light in this world."
The Light, whether we stop to notice it, or feel gratitude for it, or receive it at all, shines on….and Gary decided to honor it with this book.
Reflection: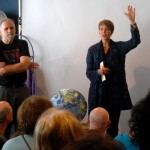 What are YOU doing for the Light in this world?  Perhaps this is book is an invitation for each of us to consider this question….and to respond with one of its suggestions….or one of your own.  And so, we're going to set about to bless Gary's book now….
Group Blessing:
What words do you remember from this book? [participants call out various words]  Yes, yes!  All those words and many others.  So now, to bless this book – an original act of creativity; and to offer this book as a blessing to the world, I'm going to askGaryto "send" this Earth Ball into the crowd.  As the ball finds its way to you, call out your favorite word from the book and bound the ball elsewhere in the crowd.  [Words are called out and ball is bounced for a few moments; crowd laughs and engages fully in act of group blessing.]
Final Blessing / Sending Forth:
May this book motivate those idle and antsy hands to manifest that new masterpiece, Great or mundane;
May this book inspire those dull and deadened minds to new ways of seeing, simple and transformative;
May this book find those hearts – closed or sleeping – and invite them to open and awaken!
Blessings be on Gary, the creator and If I Were You, this book!  May it be so!